Invisalign at Dundas West Dentistry, Etobicoke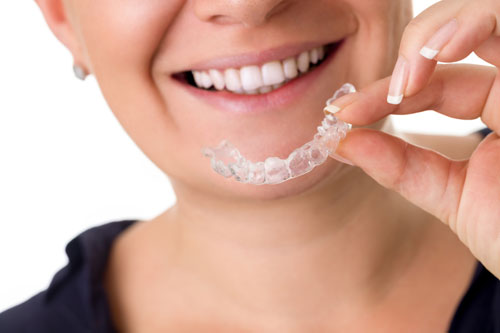 Braces aren't the only way to straighten teeth or correct misalignment. Invisalign is a new system of clear, removable aligners that gradually reposition teeth and give you the smile you've always wanted in less time and with less metal wires!
At Dundas West Family and Cosmetic Dentistry, we offer Invisalign aligners at our Etobicoke dental office because they are more visually appealing than braces and give patients the option of removing the aligner, brushing and flossing or performing any oral function comfortably, then placing it again.
The Invisalign process:
Impressions of your teeth are taken including bite registrations, photographs, and x-rays
The captured images and Dr. Malindi's treatment plan for you are sent to the Invisalign laboratory.
Your aligners are created by the lab and are precisely customized molds for your specific oral structure.
Each aligner is worn for about two weeks and slightly shifts your teeth until you place the next aligner in the series that continues the shifting process.
It typically takes 9 to 15 months to complete the orthodontic treatment with Invisalign, during which time 18-30 aligners are used.
We offer a free Invisalign consultation at Dundas West Dentistry in Etobicoke, so book your consultation appointment today to check if you are the right candidate for the Invisalign treatment.