Dental Implant at Dundas West Dentistry, Etobicoke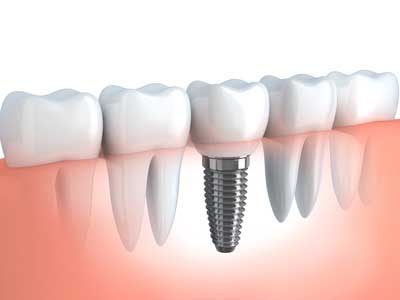 Dental implant is a common solution for a missing tooth or gap in your smile that you may want to correct for both aesthetic purposes, and better oral function. During this oral procedure, we at Dundas West Dentistry, will place a prosthetic post into your jaw bone, on which a replacement tooth is then securely positioned. You replacement tooth will be shaped and colored to match surrounding teeth to make sure your smile is as natural looking as possible!
A dental implant looks and feels like your own tooth. It also becomes permanent and is very durable due to the design and ability to fuse with your jaw bone. It allows for easier eating, improved speech, and benefit your overall oral health because a dental implant does not alter the state of nearby natural teeth, and improves oral hygiene by filling gaps in your oral structure.
If you think a dental implant may be the right solution for your dental issue, book your appointment at Dundas West Dentistry in Etobicoke, or contact us for more details on this dental procedure or other missing teeth solutions.